As Australia's NBN approaches completion, some 12 years after Kevin Rudd took the NBN to an Australian election, many nations are now nearing completion of their own version. A European document, neatly compares 28 countries within the EU, and their national broadband targets. I summarise this list below.
Data
: See the EU document (
pdf
- Slide 37),
html
. Full
Report
(pdf 328pp), and EU Strategy for a
Gigabit Society
.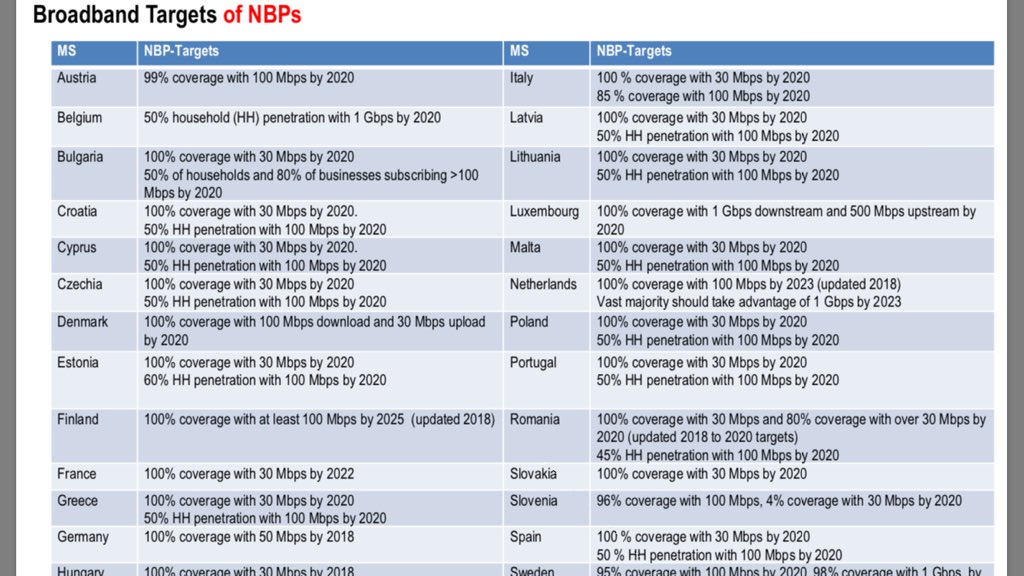 EU National Broadband Plan - Targets
Some examples include:
Slow: Greece/Italy 100% coverage - 30mbps - 2020 (plus 17 others)
Usage: Greece/Spain 50% penetration (ie usage) - 100mbps - 2020 (plus 14 others)
Medium: Germany 100% coverage - 50mbps - 2020
Fast: Netherlands at 100% coverage - 100mbps - 2023 (plus six others similar eg Italy 85%, Sweden 95% at 2020)
Superfast: Sweden 98% coverage - 1Gbps - 2025 (plus Netherlands (vast majority), Belgium 50% and Luxembourg 100%)
UK 100% fibre coverage - 2033 (and 15M premises by 2025).
Comparing EU to AU
Looking at these clusters, Australia's NBN seems to sit closest to Germany, with 90% of fixed line network, getting at least 50Mbps, as well as the base 25mbps target for 100% coverage. Australia has neither a usage target (besides Corporate Plan targets of 75% usage) nor gigabit target. The current MTM allows up to 50% of premises to access gigabit once NBN activates upgrades to HFC, FTTC, FTTP.
Structured data (csv) follows: (MacOS 10.14.6 Numbers 6.1)
Country,Cover%,Type,Speed (mbps),Date,Comment
Greece,100,coverage,30,2020,"Inc Cyprus, Spain, Malta, Poland, Lithuania, Latvia, Italy, Czechia, Croatia, Bulgaria, Estonia, France (2022), Hungary (2018), Ireland, Portugal, Romania (inc 80% > 30mbps), Slovakia, Slovenia (last 4%)"
Greece,50,Penetration,100,2020,"Inc Bulgaria homes (Businesses 80%), Croatia, Cyprus, Czechia, Estonia (60%), Hungary, Ireland (inc 17-21mbps up), Latvia, Lithuania, Malta, Poland, Portugal, Romania (45%), Spain, Sweden"
Germany,100,coverage,50,2018,
Belgium,50,Penetration,1000,2020,"Inc Luxembourg (100% coverage, 500Mbps up), Netherlands (vast majority by 2023), Sweden (98% coverage by 2025)"
Denmark,100,coverage,100,2020,"Inc Denmark (30mbps up), Sweden (95%), Austria (99%), Finland (2025), Italy (85%), Netherlands (2023), Slovenia (96%)"
UK,100,Full fibre,n/a,2033,Inc 15M premises by 2025
// Source: https://t.co/YFd9pA8LZe - slide 37